Over the past several years, Denver has solidified itself as a must-visit city in the U.S.
From its iconic mountain views to its exceptional restaurants (we're looking at you, Alex Seidel, Juan Padro, Frank Bonanno, Troy Guard...) and chic cocktail scene, the Mile High City offers visitors and locals alike unique opportunities to stay in some of the hottest new hotels and most unique neighborhoods.
Whether you're recommending a hip spot for a friend to stay or your company needs a unique place to host clients or employees, look no further than our list of Denver's Hottest Hotels to find the ideal location for your next overnight stay.

(Photo: JOHNSON NATHAN STROHE)
The Ramble Hotel
Having just opened its doors this Spring, The Ramble Hotel has already established itself as a landmark in Denver's industrial-revivalist River North (RiNo) neighborhood. RiNo's first hotel features a world class cocktail bar and lounge, by renowned Death & Co., as the focal point of its lobby. Featuring just 50 rooms, the hotel's intimate size is a big draw for both business and leisure travelers. Richly furnished rooms with opulent details and gallery walls of curated art transport you back in time to an 18th century French salon. Adjacent to the hotel is world-class chef Dana Rodriguez's new establishment, Super Mega Bien, serving up Pan-Latin tapas and street plates. Be warned, you may not want to leave this boutique hotel's chic digs and in-house offerings to actually get out and explore the city!
https://www.theramblehotel.com/
Insider Tip: Skip the room service and opt for coffee downstairs at Death and Co.'s morning concept, DC/AM, or sip boozy weekend brunch cocktails on the rooftop patio, The Garden.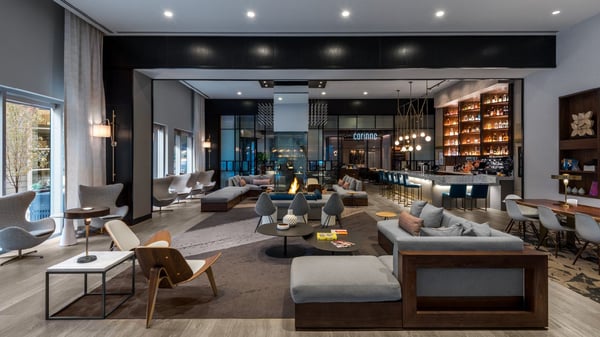 (Photo: Le Meridien Denver)
Le Meridien Hotel
Vintage. Modern. Glamour. Stay at Le Meridien Hotel in Downtown Denver and experience a stylish hotel which nods to the golden era when traveling the world was a new adventure. The hotel is home to Denver's tallest open-air rooftop bar, 54thirty – perfect for warm summer nights with stunning skyline views at 5,430 feet above sea level. The hotel offers three in-house restaurants, but its location just off the 16th Street Mall puts it within steps of some of Denver's finest restaurants and signature spots like Larimer Square.
https://le-meridien.marriott.com/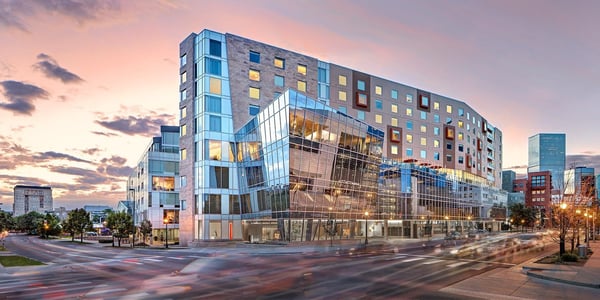 (Photo: the ART, a hotel)
the ART, a hotel
Recently named the Best Hotel in Colorado by Conde Nast Traveler, the ART, a hotel is a 4-star boutique hotel with luxurious accommodations and eye-catching décor in Downtown Denver's arts district. You'll walk out of the lobby and right into the heart of Denver's museums and cultural attractions. If a cocktail is more your style than a visit to the Denver Art Museum, visit the ART's in-house restaurant and lounge, Fire, featuring new-American cuisine and incredible city views. Don't let the details here pass you by, the hotel's architecture is worth admiring. Look up to spot a dazzling light installation as you enter the hotel. It glitters especially brilliantly at night.
Insider Tip: While you might be within walking distance to the DAM, don't miss the opportunity to explore the hotel's own art collection. Complimentary guided tours are offered every Saturday at 11 a.m. and 5 p.m.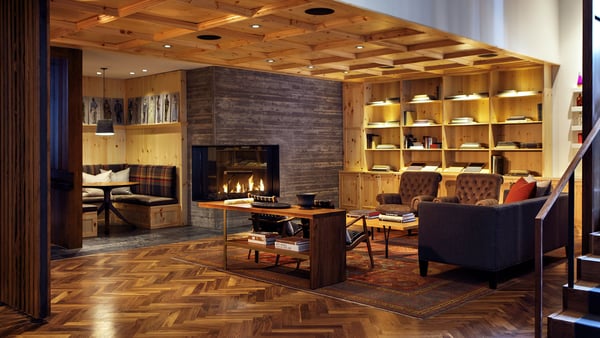 (Photo: Kimpton Hotel Born)
Kimpton Hotel Born
With a practically unbeatable location, Kimpton Hotel Born is beautiful, luxurious and full of unique amenities. Just a few steps from Union Station, its interior pays homage to Colorado's unique urban-outdoor lifestyle, but it is the hotel's pet policy that is perhaps the most Colorado part. Special perks like personal water bowls and fluffy dog beds greet four-legged guests and make a unique selling point (the hotel doesn't charge any pet fees, either). Additional amenities include everything from the unique to the unexpected: tours of the hotel's art collection (which was curated by the Denver Art Museum), Tesla rides, free rental bikes, personal yoga mats, a complimentary wine hour (!!) and access to the upscale Colorado Athletic Club. http://www.hotelborndenver.com
Insider Tip: Kimpton Hotel Born's in-house restaurant, Citizen Rail, stands out on its own. (Try the hickory-braised oxtail and rice grits.)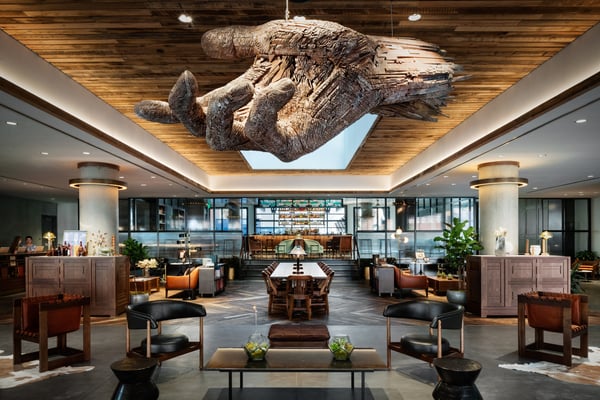 (Photo: JOHNSON NATHAN STROHE)
The Maven Hotel at Dairy Block
Located in Denver's iconic Lower Downtown (LoDo) neighborhood, The Maven Hotel at Dairy Block is just steps from Coors Field and in the same development as (arguably) the city's coolest new food hall concept, Milk Market (from the mind of renowned chef Frank Bonnano). Its lobby feels more like a living room than a hotel, featuring fresh espresso from local coffee roasters Huckleberry, a hip cocktail lounge, Poka Lola, and hand-curated art from local and nationally-recognized artists. Guests can even grab a fresh cup of coffee or complimentary margarita (or beer) from Kachina Cantina's Airstream (a vintage silver Airstream-trailer-turned-food-truck). Practically everything about this bold downtown spot is unique and vibrant, just like the neighborhood it calls home.
Insider's Tip: Request a room with a balcony that overlooks Maker's Alley. Make sure you explore Milk Market downstairs (and grab a freshly-crafted cocktail from Moo Bar for your stroll through the food hall).
Two more hot hotels to keep on your radar: The Jacquard in Cherry Creek and The Source Hotel in RiNo are both slated to open in 2018.
Did we miss your favorite hotel? Contact us! We always enjoy discovering new places around Denver.
Matt Brower | 303.523.4844 | mbrower@columncommercial.com