Column Commercial Partners Managing Broker Matt Brower recently sat down with Pascal Wagner, founder of Walkthrough, to learn more about how the growing tech company got its start and how it's revolutionizing the real estate market.
Walkthrough is a platform that enables people to create high-end real estate marketing materials using their smartphones. It teaches customers how to take professional-grade photos without the professional-grade equipment, potentially saving them hundreds of dollars in marketing expenses. Since its founding in 2016, the company has grown exponentially, and mainly by word of mouth.
Now, the company is embarking on its next chapter of growth in the midst of participating in a highly competitive accelerator program with Techstars Boulder.
Click below to hear how Walkthrough is making its mark on the tech world.
Excerpts from the interview: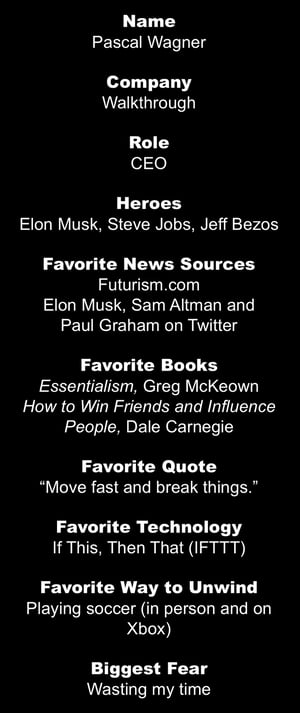 Tell us a little bit about your company, Walkthrough.
Walkthrough is the platform enabling anyone to order or create high-end real estate marketing materials with just their smartphone.
How is Walkthrough changing the real estate industry?
We figured out how to take the art of photography and turn it into a science. We're able to take people who have never touched a professional camera before and teach them in a couple of hours of training what shots they should take.
We're currently working on automating that process, so our app would tell you what parts of the house to stand in and where to angle the camera. The idea is it will all upload and immediately spit out 3D tours, photos, flyers, brochures, a website – basically anything you could possibly need to market a space.
What inspired you to co-found Walkthrough in 2016?
My best friend called me on the way back from a house showing where the client said, "This doesn't look anything like the photos. We can leave." About an hour earlier, I had put on my first virtual reality headset and thought, "There's no way this is not the future."
You shouldn't be driving an hour and a half each way just to have someone walk into a home and say, "This isn't for me." That's how the company started, with that idea.
What kind of growth have you seen at Walkthrough over the past two years? What is the primary driver of that growth?
We've priced ourselves at the same minimum rate that most real estate agents pay for photography. By switching to us, they're getting a lot more value for the same price. Our growth is mostly all due to our pricing strategy.
What's the best advice you can give to other companies looking to grow?
That's a really hard question to answer because it's so variable. The one thing that is consistent is being able to focus and eliminate things off of your plate. We come to the real estate space and offer something unique and different that other players are not offering.
Tell us a bit about your experience with Techstars. What's one of your biggest takeaways?
I'm absolutely blown away. All the frameworks they teach you are phenomenal, like how to run your weekly meetings, how to set monthly or quarterly goals, and how to run retrospectives. There's also multiple role-playing opportunities with scenarios like mock investor meetings.
An Insider's Look
At Column Commercial, we get to know our clients beyond the transaction. By taking a passionate interest in their business goals, we can better position them for long-term success with their real estate decisions. A big thank you to Pascal for taking the time to talk to us. For an insider's look into Walkthrough's Techstars Boulder experience, click here.